Welded by the Cammell Laird's workforce over 40 years ago, the "Bucket Fountain" is the brain child of Welsh sculptor, Richard Huws.

In the 60s, kinetic sound-sculptures like this one could be found soaking civic squares from Wellington to Seattle.

Although known as the "Bucket Fountain", its official name is the Piazza Fountain.

The pivoted buckets are suspended on rods from which they are filled with water, they tilt when they become full and then empty noisily into lower buckets and/or eventually empty in the pool in which they stand.
"It is a waterfall of a strange new kind," Huws told the Merseyside Civic Society when the piece was erected. "Instead of streaming steadily, water hurtles down unexpectedly in detatched lumps in all directions."

"The sight and sound of waterfalls is so spellbinding that they have always been centres of attraction in the landscape, and in the places where we work we are prompted to create them artificially," Huws said, adding that the 'perpetual bubblings' of man-made fountains seriously bored him.

"To make it more exciting we contrive various means of providing additional animation, a very simple device which interrupts the regular flow, so as to create a round of action. The sound and movement of which is no longer that of the ever-monotonous bubbling river, but that of the restless, temperamental sea…"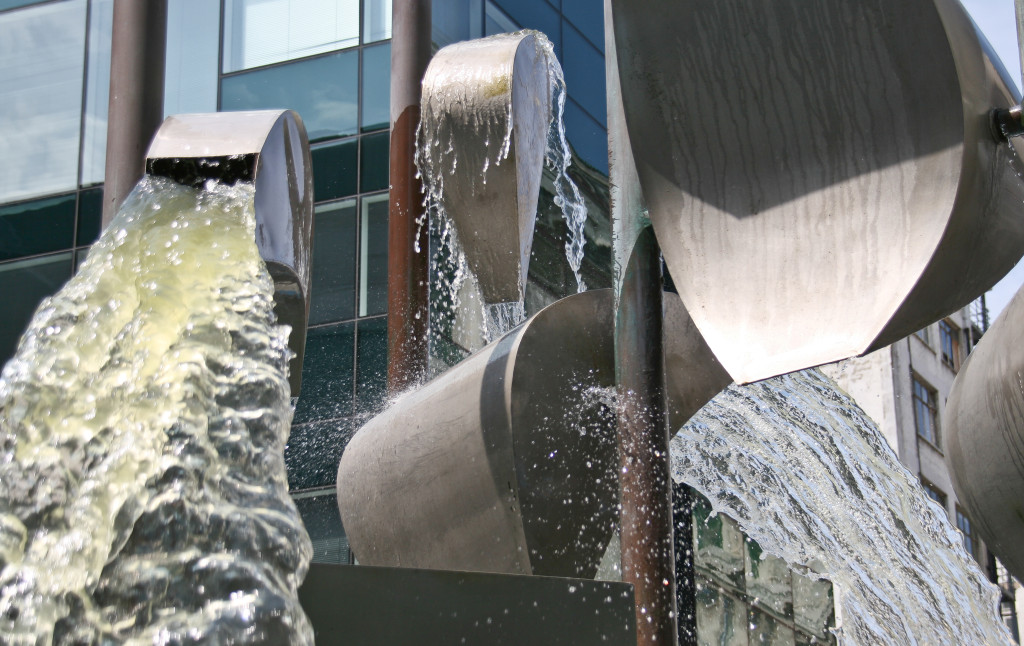 It was originally destined for a new town in Lancashire but the Arts Council stepped in and contributed £750 towards the Merseyside Civic Society's campaign to have the sculpture relocated along the banks of the Mersey – on the site of the old Goree Warehouse.



There's an African shield on the base which inscription reads:
"Originally two arcaded warehouses in the middle of the old dock road was named after the island 'Goree' off the west coast of Africa. On the 14th September 1822, the Piazza was gutted by a spectacular fire, described by Thomas De Quincy. In 1817 Washington Irving worked at the American Consul in Liverpool, had his office at Washington House – Goree. The old Piazza was severely bombed in the air raids of 1941 and finally demolished between 1948 and 1950. In 1967, to mark the completion of the new piazza this plaque was kindly presented by Cammell Laird and Co, builders of the fountain."



Photos by Alan Cookson